On 19th December 2021, India made history. At the Gateway of India, Mumbai, Maharashtra. India's First Sea Meditation Session took place on a Luxury Yacht, and the day was Sunday. Winds and waves were felt, and the 'Sea Within You' session was happening.
The inception of Sea Within You
Abhinav Bharti, the founder of Yachtshots Entertainment, launched an innovative concept called 'Sea Within You' where people get an unprecedented, unparalleled experience of meditation in between the Sea. Yes, this is a new vibe and culture of meditating in between the Sea that evolved. The core concept is meditation with the waves and sounds at the Arabian Sea, Mumbai. We could feel those waves and sounds in the middle of a sea.
Abhinav Bharti has established Yachtshots.in intending to give people an experience of a lifetime. In this era where the lifestyle of people is governed by time and stress, Abhinav thought of doing something unconventional. He brought the concept of "Sea Within You." When Abhinav was asked how he was inspired for this venture, he said, "With the growing stress, anxiety, and depression amidst the pandemic, I wanted to bring up something very calming and new across age groups. This led to the launch of our idea called 'Sea Within You' with a small batch to know their experience." From the point where Abhinav started, there was no turning back.

Event Flow of Sea Within You
This event was well organised and systematic, and it went something like
20 mins of Meditation
15 mins of Singing Bowl +
15 mins of Bar Chimes
15 mins of Live Handpan
Accompanied by Sound Therapy and Chanting
Followed by Fresh Fruits & Healthy Drinks.
Renowned celebrities attended the 'Sea Within You' session. The names include Anjali Bhushan, a Creative Head at Viacom18 Studios, Namita Alexander, A Celebrity Fashion Stylist. Kapil Madnani, the person behind Drishyam Post Production, Sagar Singh, An Environmentalist who is also Green-Crusader Awardee, and the list goes on. Various people from different backgrounds attended the session and felt amazing.
Feedbacks and Reviews
Sagar says, "I am never saying bye to this place! I am loving the vibe and the people over here and I think everybody should experience this kind of a detox at least once a week for sure."
Namita shares her experience and quotes, "I think it was fabulous I can't remember the last time I spend such an amazing Sunday morning it was absolutely beautiful. I loved it."
Kapil shares his experience, "Made me realise that the sea in front of YOU is actually Within You."

Padmavati, who was the session facilitator, shares how she felt connecting to the participants and the session. She says,
"In a fast-paced city like Mumbai, it's easy to feel lost, anxious, and disconnected with the self. When you're in nature, there is very little one needs to do in order to feel calm and centered.
Hence for me, the experience of conducting this session with yacht shots, especially on a full moon day in the middle of the ocean, was about guiding the participants to connect with the silence within themselves, using the sound of the waves, guided intentional breath work and chanting.
This concept is an excellent way of experiencing the luxury of sailing within ourselves and sailing on a yacht to really sea (see) within you."
"I had a vision of exploring the Mumbai Sea when I was in my teenage days. It's amazing to have people from pan India coming and attending my events at the Arabian Sea" Abhinav, founder of Yatchshots, shares his own experience.
Future Plans
Yatchshots has brought up this unique concept, and they are working on expanding and making more people aware of the sessions they undertake and this unique concept. Yatchshots is planning to host a wellness and fitness festival for over 300 people on a Mini Cruise where people will get a chance to experience unique activities and things like Zumba, Yoga, and Meditate with live music on a cruise. This will be a Wellness Festival for India, one like never before.
Rupam Vaghani, Abhinav Bharti, Satbir Nagpal, Padmavati Iyenger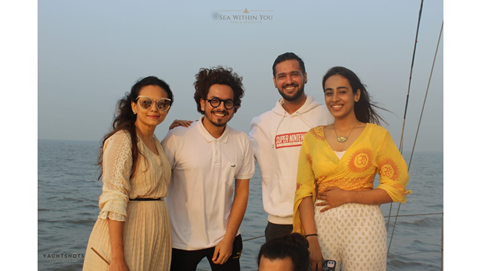 Meet the Team behind Sea Withing You
Behind every successful session like Sea Within, you have worked hard day and night to make this successful. The people, the team of talented and fabulous people, included;
Padmavati Iyenger, Meditation Session Facilitator
Rupam Vaghani, Singing Bowl Artist
Vaibhav, Handpan Artist
Satbir Nagpal, Event Consultant
FruitAffair – Food Partner
Tribe India – Supporting Sponsor
DrinkShunya – Beverage Partner

Abhinav Bharti, the founder and man behind 'Sea Within You,' shares a message "I think people should never stop exploring. There's so much to do within our own city, Mumbai." This is how on 19th December 2021, India achieved a milestone.
Website: http://www.yachtshots.in
Instagram: https://instagram.com/yachtshots.in?utm_medium=copy_link